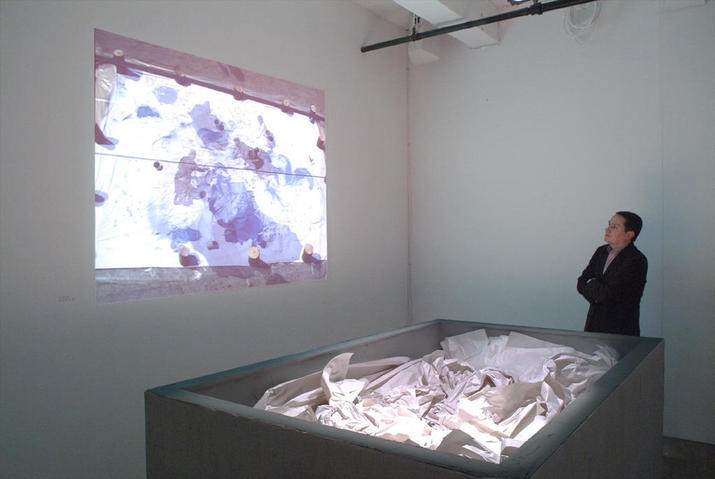 ---
Ciało jako przestrzeń metafizyczna (Body as Metaphysical Space)
Conversation with Monika Weiss
by Ewa Kara

Dziennik Polski/Kultura, October 21, 2004
English translation: Francis Kijanka

Ewa Kara:
Conversation with Monika Weiss, contemporary Polish intermedia artist, since 1996 creating in the United States, whose exhibition "Intervals" opens October 21 at Remy Toledo Gallery in Chelsea. In conjunction with Carolee Schneemann: "Infinite Kisses II & Snafu."

Ewa Kara (EK): For the past three years you have been working and living in New York City. How is this city for you?

Monika Weiss (MW): I arrived in New York after a long-term residency in Atlanta, where I taught and created art. So far New York seems to offer an accommodating environment for my art. I found myself here as if back at home, having a chance to exchange thoughts and ideas with other artists and to observe our respective work. Experimental Intermedia Foundation, run by Phill Niblock, became my home, supporting my artistic pursuit, offering studio space and technical assistance.

EK: Intermedia as a name and movement defines artists who are active in multi-disciplines, that characterize your own work. Performance appeared in your art relatively recently - in the last five years. In what way does it function in your work?

MW: An accumulation of projects and the particular mediums in the last few years is not only a result of the last years of work, but also a result of a development that took about fifteen years. Performance as a medium signifies presence. It appeared as a result of my need to incorporate the presence into my projects as one of the elements of the composition. Performance is not the most important but an equal part, where all components have their role. On the one hand this created a priori assemblage of elements sets the limits for the project, at the same time creating its structure.

EK: How do you experience the phenomenon of time during your multi-hour actions?

MW: First I lose the sense and the rhythm of time. At the beginning the repetitive action is a torment. Later I let go of the control of time. I no longer struggle, and the torment changes into something entirely different. It happens often that I still continue to draw, even though everyone has left. It hurts when I have to finish a performative action, because I become physically attached to the site. One could compare this feeling with the attachment to life. I am physically present in my work - I brush against the surface with my skin, becoming one with the canvas, paper or water. Nevertheless the works are meant to convey an infinite space, where the repetition implies eternity and return. Often an actual return is impossible because of technical or conceptual reasons. My recent projects began to overlap each other, refer to each other through complex motifs and threads of meaning. I don't work within the limits of beginning and end, rather, in a conceptual space of return, repetition, non-linear development, and accumulation.

EK: You submit not only your body, but also the entire project, to drastic limitations.

MW: I am interested in some limitations, but they result from the composition. The limits in my work are formal. I believe the form is capable of embodying something that transcends itself. My formal decisions define my intuitive moving through the space of paper or the length of an immersion in water or in paint. Concentration, which results from such choices, prevents me from feeling the pain, which I discover later. What drives me is the need to see the image, which consists of time, color, canvas, video, but also -- for example -- of the wind and the cold, and of the dialectics between other people's and my own presence.

EK: This Thursday your next exhibition opens, this time at Remy Toledo Gallery, which represents your work since July this year. What works will be exhibited?

MW: Sculptural installation "White Chalice (Ennoia)," a chalice with a tall base, is made of polypropylene and rubber latex, materials connoting human skin, its dimensions allowing my body to be immersed inside. The chalice will be filled with water, into which a video image will be projected, presenting my curled-up figure in a circular motion. In the same space photographs in "Ennoia" series will be presented as well as "Skulenie," a charcoal on paper drawing, and a video piece "Drawing Barn." In another space, the gallery room will become the site of performance/installation combining two works -- a video projection "Drawing the City" and a sculpture "Lethe Room." These two different projects are connected on many levels, for example through the sounds of the composition by Hildegard von Bingen (an eleventh century woman composer and poet) and sounds of the Hudson River, which I recorded during "Drawing the City (Day One, Day Two)" project. The Hudson River can be seen from the gallery's window. I decided to wall up the window, living only a narrow opening, reminiscent of medieval or military buildings, through which one can see the river. "Lethe Room" is a brand new sculpture, which consists of a concrete tomb, the length of my body, filled with layers of paper. During the opening I will lay in it and move gradually. After I leave, the interior base of the sculpture will be set in motion, in a rhythm resembling breathing, until the end of the show. I can return to it at any time, so the performance is independent. The movement of the motor and sensors installed inside "Lethe" are reflecting the same fragment of the music by Hildegard. Here, as opposed to the protagonist in "Doctor Faustus" (by Thomas Mann), I translate the music into a heavy physical presence and motion. I employ mathematical system based on a fragment of music, according to which the motor works, while at the same time proposing the intuitive movement of my body and repetition.

EK: Your exhibition is combined with an exhibition of the newest works by Carolee Schneemann, one of the most important women artists, notorious for her challenging the New York public. A meeting with both of you is scheduled for November 13, during which you will read your own texts. You both work with your body, but in different ways. What is your relationship to the body?

MW: We are both using our body as a medium, but I think we have a different approach towards it. It's hard for me to say where that difference lies. Regarding my take on the issue of the body, I can say that I am not interested in performance as a spectacle. Body functions in my works as a trace, a metaphysical space of separation and passage. Human body is an equal sculptural component with other components in my composition, like in the works of the Minimalists. The body is a material for me, but it is also a unique object, which - because of its cultural history - has the ability to transgress its physicality. The issues of presence, separation and confluence are ontologically incorporated through my attempt to consider my own body. Where does the possibility of thinking of the body as an object begin? Flesh is an ambiguous and fragile terrain, where we can, generally speaking, investigate the fluid boundary between being and not being, presence and absence.

EK: Thank you for this conversation. I am delighted to invite the readers to see the exhibition.

Monika Weiss "Intervals" at Remy Toledo Gallery, 529 W. 20th Street; www.remytoledogallery.com
Opening reception: Thursday, October 21, 6-9 PM.
"An Evening with Schneemann and Weiss": Saturday, November 13, 6-8 PM.