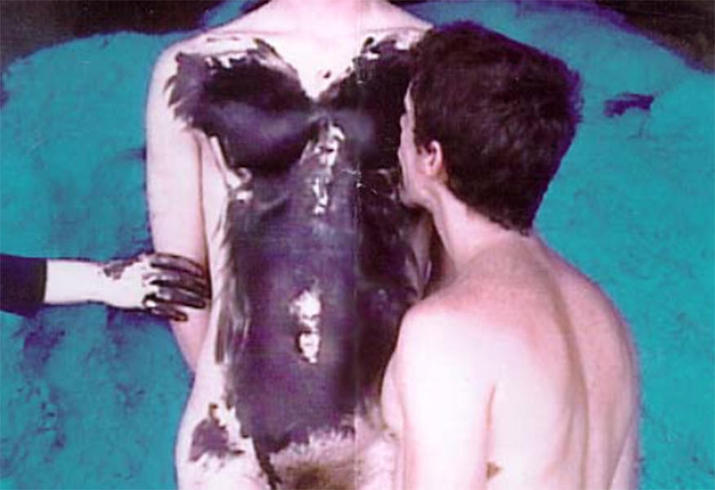 ---
Toxic Ritual
by
Cathy Byrd
Review
Monika Weiss, Koiman, Oct. 10-24, 1998, at Space 1181, 1181 Howell Mill Road, Atlanta, Ga. 30318.
READ ON ARTNET.COM REVIEWS PAGE HERE
Koiman is the title of a site-specific video-sound-object by Polish artist Monika Weiss that was recently installed at Atlanta's Space 1181. A Greek word meaning "to put to sleep, to coffin," Koiman is here a crumbling, flowing, sucking, rumbling environment that conspires to awaken and unsettle the mind and senses.
Koiman is a theatrical installation consisting of a wall-sized video-projection, an 800-pound cast-concrete baptismal font, 60 gallons of used motor oil, a mound of blue-painted earth and prerecorded ambient train sounds. Weiss has combined these anomalous elements in a metaphoric allusion to the Catholic mythology of Saint Catherine of Sienna, who claimed to drink from the open wound of Christ.
Space 1811 is an unusual setting, even for an alternative gallery. Occupying the partially exposed cement basement of a commercial structure built into land that slopes down to railroad tracks, the space can be reached only by descending a hidden roadside stairway engulfed in kudzu. Beside a crumbling wall of dirt and detritus covered with lapis lazuli pigment, a cement walk leads into a stark, dimly lit interior of irregular dimensions with downward slanting floor.
At first impression, Koiman is at once transfixing and repelling. The darkness is permeated by oil fumes. A 13-foot-square video projection shows two figures engaged in an intimate ritual before a deep blue earthen wall (the same lapis as outside). Off to the left, about halfway into the room, looms a shadowy oozing sculptural object.
Eyes adjusting to obscurity make out a dark river emanating from a 35-inch-wide octagonal font. Designed with an interior pump, its well is filled with murky brown oil. Every few seconds, one solitary viscous bubble erupts from its surface. A slow stream of dark liquid flows down the side of the font and onto the floor. A shimmery reflection of the fermenting font glows on the ceiling between two small lights that illuminate its surface.
The stream widens as it flows to the back wall, reflecting imagery from the adjacent projection. In that 20-minute unedited scene, a character of uncertain gender stands still and straight, with hands behind back. The figure's cropped full-frontal view from neck to pubis shows a torso that has been painted by hand in strokes and smears of black. Seen in profile, a second character is kneeling, hands at his side, suckling almost continuously at the breast of the upright stoic figure, who becomes increasingly fatigued with his role. The subtle, paint-inflected hand of the artist enters the frame at rare moments to manipulate the actors.
As a complex parody of ritual, Koiman reveals the immanence of cultural, social and political practices that engender decay and collapse. Private is made public, sacred becomes profane. Font mimics holy vessel. Theatrical makeup pretends to be oil, oil feigns blood, holy water or excrement. Sensual figures pose as Christ and worshipper. Inexorable toxic obsessions, universally shared and damaging, are masked and unmasked. "It's a play, and I'm the director," says Weiss.
The artist, who last year showed Saint Sebastian from Atlanta at Nexus Press in Atlanta, has exhibited extensively abroad. Like Ann Hamilton, she consistently merges concept and environment. Initially working through drawings, collages and wall paintings, Weiss has begun to embody her ideas in multi-sensory installations. In Koiman she has mediated an intensely visceral and meditative reflection of post-Catholic culture, gender politics, memory and the self.
CATHY BYRD is an Atlanta artist and writer.