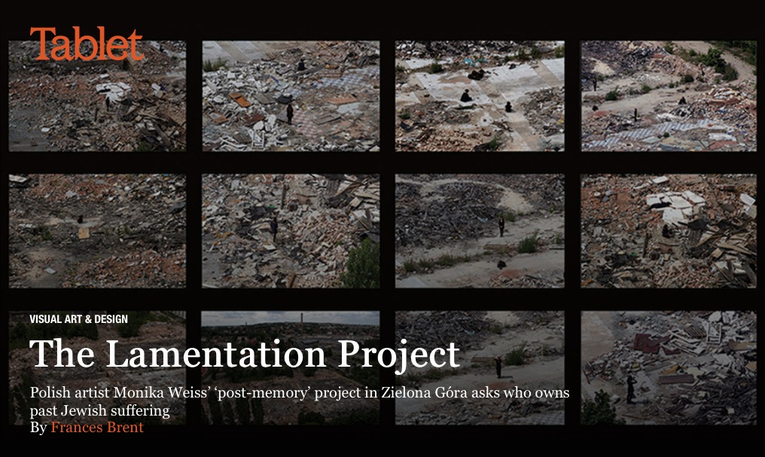 ---
Monika Weiss' SHROUDS–CAŁUNY
reviewed in the current issue of Tablet Magazine by Frances Brent
READ THE REVIEW IN TABLET MAGAZINE
'Before the war, Zielona Góra [Poland] was in Germany, known as Grünberg. During the Second World War the site was a forced labor camp mostly for Jewish women, which later became a concentration camp. […] During the war about 1,000 young women who were made to work there as seamstresses eventually became inmates of the concentration camp complex administered by KZ Groß-Rosen. Towards the very end of the war the prisoners were sent on one of the most tragic of death marches and many of them died'
- Monika Weiss, Zielona Góra, June 15, 2012
Excerpts of Frances Brent's article The Lamentation Project:
[Weiss] "is interested in projects of commemoration and memory, raising questions about how an artist—not a witness or a survivor—should react to the traumas of history and what constitutes post-memory. In Poland, […] there's excruciating sensitivity about memory of the war years. To whom does memory belong? Who has the right to respond to it?
After the war, during the early Communist period, most of the German population in the region fled or was expelled, and new families from farther east moved to Zielona Góra. […] when Weiss visited the area there was no public memory of the German concentration camp…
In 2011 […], the local museum, BWA Zielona Góra, invited Weiss to do a project. As she said to me, "[…] I saw in my imagination: An artist comes and makes a project on the site of a concentration camp—there's something horrible about it." Rather, because she saw that it was abandoned, she decided to invite a group of young women from the area to inhabit the space as lamenters in the classical tradition, sitting, standing, lying down, feeling the discomfort of the ground with their bodies, marking the absence of what was once there.
Documents from the project […] exist in vividly colored aerial photographs that show the site from different vantage points. […] At closer range you can see declivities in the earth and small mounds of debris, old window frames, and floor tile. The young women, in different postures and orientations to the space, are scattered around; they look almost like the black spots or lesions that show up on Weiss' charcoal drawings... […]
In a conversation after the performance at Zielona Góra, one of the young women lamenters said to Weiss, "You know, before I went there […], there was nothing. There was nothing in this place, and now it's something."
Shrouds–Całuny, consisting of public project, film projection, sound, and photography, was commissioned in 2012 by the BWA City Gallery in Zielona Góra, Poland. A bilingual publication accompanied the exhibition:
"The title's shrouds do not heal, do not dress, and do not calm. They are signs of memory's clinical death, a condition where we are still able to turn back"
wrote curator of Weiss' project, Wojciech Kozłowski in: 'Recall: Roland Shefferski and Monika Weiss, BWA Zielona Gora & Muzeum Ziemi Lubuskiej, Poland, 2014