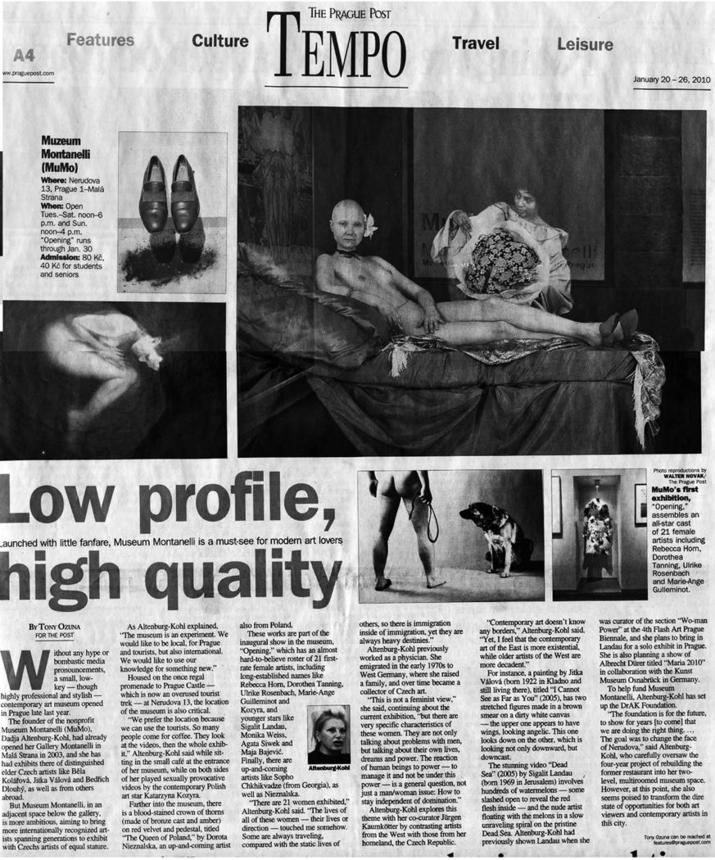 ---
Low profile, high quality
Review
by Tony Ozuna
in
The Prague Post
THE PRAGUE POST
---
Without any hype or bombastic media pronouncements, a small, low-key - though highly professional and stylish - contemporary art museum opened in Prague late last year. The founder of the nonprofit Museum Montanelli (MuMo), Dadja Altenburg-Kohl, had already opened her Gallery Montanelli in Malá Strana in 2003, and she has had exhibits there of distinguished elder Czech artists like Běla Kolářová, Jitka Válová and Bedřich Dlouhý, as well as from others abroad.
But Museum Montanelli, in an adjacent space below the gallery, is more ambitious, aiming to bring more internationally recognized artists spanning generations to exhibit with Czechs artists of equal stature. As Altenburg-Kohl explained, "The museum is an experiment. We would like to be local, for Prague and tourists, but also international. We would like to use our knowledge for something new."
Housed on the once regal promenade to Prague Castle - which is now an overused tourist trek - at Nerudova 13, the location of the museum is also critical. "We prefer the location because we can use the tourists. So many people come for coffee. They look at the videos, then the whole exhibit," Altenburg-Kohl said while sitting in the small café at the entrance of her museum, while on both sides of her played sexually provocative videos by the contemporary Polish art star Katarzyna Kozyra.
Farther into the museum, there is a blood-stained crown of thorns (made of bronze cast and amber) on red velvet and pedestal, titled "The Queen of Poland," by Dorota Nieznalska, an up-and-coming artist also from Poland. These works are part of the inaugural show in the museum, "Opening," which has an almost hard-to-believe roster of 21 first-rate female artists, including long-established names like Rebecca Horn, Dorothea Tanning, Ulrike Rosenbach, Marie-Ange Guilleminot and Kozyra, and younger stars like Sigalit Landau, Monika Weiss, Agata Siwek and Maja Bajević. Finally, there are up-and-coming artists like Sopho Chkhikvadze (from Georgia), as well as Nieznalska.
"There are 21 women exhibited," Altenburg-Kohl said. "The lives of all of these women - their lives or direction - touched me somehow. Some are always traveling, compared with the static lives of others, so there is immigration inside of immigration, yet they are always heavy destinies." Altenburg-Kohl previously worked as a physician. She emigrated in the early 1970s to West Germany, where she raised a family, and over time became a collector of Czech art. "This is not a feminist view," she said, continuing about the current exhibition, "but there are very specific characteristics of these women. They are not only talking about problems with men, but talking about their own lives, dreams and power. The reaction of human beings to power - to manage it and not be under this power - is a general question, not just a man/woman issue: How to stay independent of domination."
Altenburg-Kohl explores this theme with her co-curator Jürgen Kaumkötter by contrasting artists from the West with those from her homeland, the Czech Republic.
"Contemporary art doesn't know any borders," Altenburg-Kohl said. "Yet, I feel that the contemporary art of the East is more existential, while older artists of the West are more decadent." For instance, a painting by Jitka Válová (born 1922 in Kladno and still living there), titled "I Cannot See as Far as You" (2005), has two stretched figures made in a brown smear on a dirty white canvas - the upper one appears to have wings, looking angelic. This one looks down on the other, which is looking not only downward, but downcast.
The stunning video "Dead Sea" (2005) by Sigalit Landau (born 1969 in Jerusalem) involves hundreds of watermelons - some slashed open to reveal the red flesh inside - and the nude artist floating with the melons in a slow unraveling spiral on the pristine Dead Sea. Altenburg-Kohl had previously shown Landau when she was curator of the section "Wo-man Power" at the 4th Flash Art Prague Biennale, and she plans to bring in Landau for a solo exhibit in Prague. She is also planning a show of Albrecht Dürer titled "Maria 2010" in collaboration with the Kunst Museum Osnabrück in Germany.
To help fund Museum Montanelli, Altenburg-Kohl has set up the DrAK Foundation.
"The foundation is for the future, to show for years [to come] that we are doing the right thing. ? The goal was to change the face of Nerudova," said Altenburg-Kohl, who carefully oversaw the four-year project of rebuilding the former restaurant into her two-level, multiroomed museum space. However, at this point, she also seems poised to transform the dire state of opportunities for both art viewers and contemporary artists in this city.