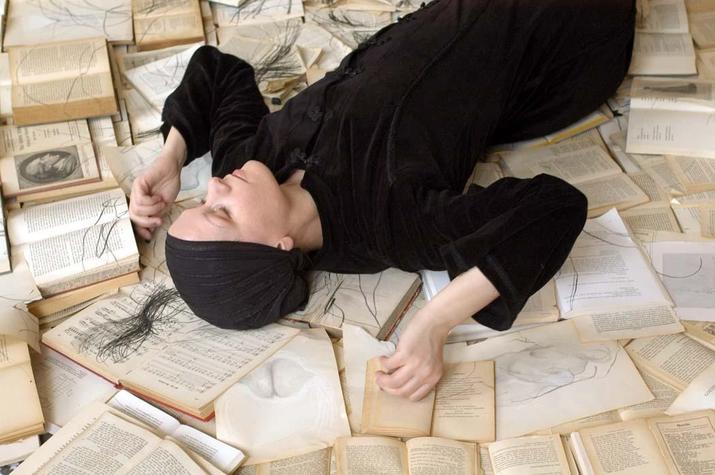 ---
The Power of Performance: Monika Weiss in the Inter-Galerie / Continuously changing installation
Review
by
Lore Bardens
in
Potsdamer
Translated from German by Henriette Huldish
POTSDAMER
Strained, isolated and yet surrounded by a lot of people, the artist lay dressed completely in black, on an oval made from open books which were pushing in seven rows to the center. She began to awake slowly from her embryo-like position. Her arms moved above the books and the note pages, her fingers held charcoal pens, with which she proceeded to draw seemingly auratic boundaries around her body, thus rendering it the center of the artistic process.
The helpless book pages, notebooks and sketches received a black line drawing that sometimes caused the page to tear. Unimpressed Monika Weiss went on working, her cephalic veins threatened to burst from the effort, she changed her posture, lay down length-wise, persevered again, and drew once more.
On Friday evening in the Inter-Galerie the visitors of the opening stood silently in the space named "Milczenie" (Silence), while in the next room named after the Phlegethon (River of Fire), the crackling and croaking, flickering and showering of a blaze was heard, which was projected there also onto the wall. Tension ruled everywhere, and the riddle was not solved even when human voices overlaid the fire noise or when at the end a song by the soprano Anthony Roth Costanzo was played that sounded as if he was not from this world. Ambiguity is certainly one of the principles with which Monika Weiss works, who was born in Poland and lives in New York.
The arrangement opened-up several associative spaces, among them probably above all the German high and the Niederstkultur of the third empire, for us a noteworthy rendezvous. The longer the silence of the spectators lasted, the stronger became the movements of the artist, which apparently stemmed from familiar memory. They turned into a memento mori that pointed toward not only the Holocaust, but more specifically the burning of the books and by implication, of culture. Or it could have intended to. The strength of this installation lies in that what was not said, in what was alluded to, and not least in the process nature of the experience. According to the hand-out the visitors may participate in the change of the paper sculpture actively or passively.
So some ventured near the opened antiquarian documents of German High Culture, and read laughing,... the work of art with relish and reading while laughing, being astonished or thinking of school years, the Heideroeslein, Heine or Schiller, who had just been honored so helplessly. Seemingly without respect, the books and the sketches showing human bodies were put back into the ensemble that appeared as if arranged by chance.
The process of the continuously changing installation is documented by a camera, which is suspended from the ceiling, and is shown in the River of Fire space as a video projection, with which another interpretation-dimension could be proposed. Big Brother as a neutral, incorruptible, constantly present commentator. Nothing remains unseen, there is no more naive-intimate relation between the work and the viewer. The time of innocence is over.
Against the strong presence of the installation in the upper rooms, the video-documentation of another performance of the artist as well as the framed sketches on the ground floor seems only a pale reflection. A Parable of the Cave, perhaps.
Potsdam Kultur, 07.03.2005 (originally published in German)
GERMAN:
Die Kraft der Performance
von Lore Bardens
Monika Weiss in der Inter-Galerie / Sich stetig verändernde Installation
Monika Weiss in der Inter-Galerie / Sich stetig verändernde Installation Angestrengt, isoliert und doch von vielen Menschen umgeben lag die ganz in schwarz gekleidete Künstlerin auf einem Oval aus aufgeschlagenen Büchern, die sich siebenreihig zum Zentrum hin drängten, und begann langsam aus ihrer Embryonalhaltung zu erwachen. Ihre Arme bewegten sich über die Buch- und Notenseiten, ihre Finger hielten Kohlestifte, mit denen sie auratisch scheinende Grenzziehungen um ihren Körper vornahm und ihn so zum Zentrum des künstlerischen Prozesses machte. Die hilflosen Buchseiten, Notenhefte und Skizzen erhielten eine schwarze Strich-Zeichnung, bei der manchmal auch die Seite riss. Unbeeindruckt arbeitete sich Monika Weiss weiter, ihre Kopfadern drohten vor Anstrengung zu platzen, sie änderte ihre Haltung, legte sich längelang, verharrte wieder, zeichnete erneut.
Die Vernissage-Besucher am Freitag Abend in der Inter-Galerie standen stumm in dem "Milczenie" (Ruhe) genannten Raum, während aus dem Phlegethon (Feuerfluss) genannten Nebenraum das Knistern und Krächzen, das Züngeln und Brausen einer Feuersbrunst drang, die dort auch an die Wand projiziert wurde. Spannung herrschte allenthalben, und das Rätsel wurde auch dann nicht aufgelöst, als menschliche Stimmen das Feuergeräusch überlagerten oder als am Ende ein Gesang des Soprans Anthony Roth Constanza erklang, der wirkte, als sei er nicht von dieser Welt. Vieldeutigkeit ist sicher eines der Prinzipien, mit denen die in Polen geborene und in New York lebende Künstlerin Monika Weiss arbeitet.
Das Arrangement eröffnete mehrere Assoziationsräume, in denen sich aber für uns wohl vor allem die deutsche Hoch- und die Niederstkultur des Dritten Reiches ein bemerkenswertes Stelldichein gaben. Je länger das Schweigen der Zuschauer dauerte, um so stärker wurden die offenbar aus familiärer Erinnerung rührenden Bewegungen der Künstlerin zu einem Memento mori, das nicht nur den Holocaust, sondern ganz konkret auch die Bücher- und damit Kulturverbrennung meinte. Oder meinen könnte. Die Stärke der Installation liegt im Nichtgesagten, im nur Angedeuteten, und nicht zuletzt im Prozesshaften des Erlebnisses. Laut Begleitpapier dürfen die Besucher an der Veränderung der Papierskulptur aktiv oder passiv Teil haben. Manche wagten sich denn auch, die Aura des Kunstwerkes lustvoll erobernd, an die aufgeschlagenen antiquarischen Dokumente deutscher Hochkultur heran, und lasen lachend, staunend oder an die Schulzeit denkend das Heidenröslein, Heine oder den gerade so hilflos verehrten Schiller. Zurück gelegt wurden die Bücher wie die menschliche Körper zeigenden Skizzen scheinbar achtlos in das vordergründig zufällig zusammengestellte Ensemble.
Der Prozess der sich stetig verändernden Installation wird von einer an der Decke angebrachten Kamera dokumentiert und im Feuerflussraum als Video gezeigt. Womit eine weitere Interpretations-Dimension eröffnet wäre. Big Brother als neutraler, unbestechlicher, ständig anwesender Kommentator. Nichts bleibt ungesehen, es gibt kein naiv-intimes Verhältnis mehr zwischen Werk und Betrachter. Die Zeit der Unschuld ist vorbei. Gegen die starke Installations-Präsenz in den oberen Räumen wirken die Videodokumentation einer weiteren Performance der Künstlerin sowie die gerahmten Skizzen im Erdgeschoss wie ein schwacher Abglanz. Ein Höhlengleichnis, vielleicht.
Lore Bardens
Monika Weiss, Installation, Performance, Video, Sound, bis 10.4., Inter-Galerie im Nikolaisaal, Wilhelm-Staab-Straße 10/11