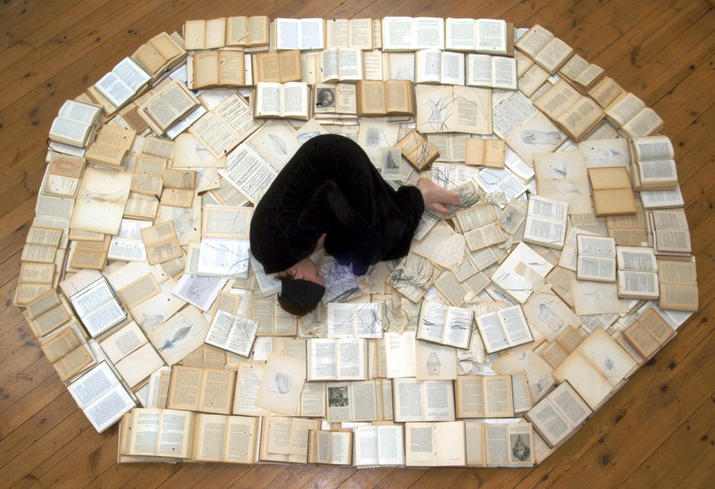 ---
Histories Retold
in
Forms of Classification: Alternative Knowledge and Contemporary Art
CIFO Cisneros Fontanals Art Foundation, Miami
by
Cecilia Fajardo-Hill
(fragment, p. 20)
2006
"Phlegethon-Milczenie, 2005, by Monika Weiss is a complex video-performance-installation that not only deals with Nazi Germany but also proposes a space for thinking about both the oppression of culture and culture's ability to oppress. Phlegethon-Milczenie presents a selection of classical German literature and philosophy texts traditionally classified as part of high culture, "the heritage of humanity", all published before 1945. The Nazis burned many such books, including all of those by Thomas Mann, though they loved Goethe and Schiller (all of whom are included in Weiss's piece).
Lying open side by side, without differentiation, are the books, some fitting the Nazi's cultural agenda and therefore celebrated, others rejected and destroyed. On this surface, at the very center of this cultural repository, Weiss draws repetitively on the open pages of the books, adding a new layer of meaning to the already existing personal, contextual, and historical lives of these books. The "values" and knowledge they represent, as the artist explains, belong to an irretrievable past, mainly because of the atrocities of the Holocaust: "Any holocaust is an erasure of culture's ability to convey."
FROM THE PUBLISHER:
Curated and written by Cecilia Fajardo-Hill, "Forms of Classification: Alternative Knowledge and Contemporary Art" focuses on the possibilities that art may offer in regards to knowing and thinking in today's world, beyond conventions.
TO PURCHASE CATALOGUE FROM CIFO CLICK HERE
Artists discussed in the publication:
Francis Alÿs
Bernd and Hilla Becher
Mark Dion
Jimmie Durham
Ellen Gallagher
Joseph Grigely
Mathilde ter Heijne
Rafael Lozano-Hemmer
Susan Hiller
Jack Leirner
Allan McCollum
Damian Ortega
Julian Rosefeldt
Chen Shaoxiong
Nedko Solakov
Monika Weiss