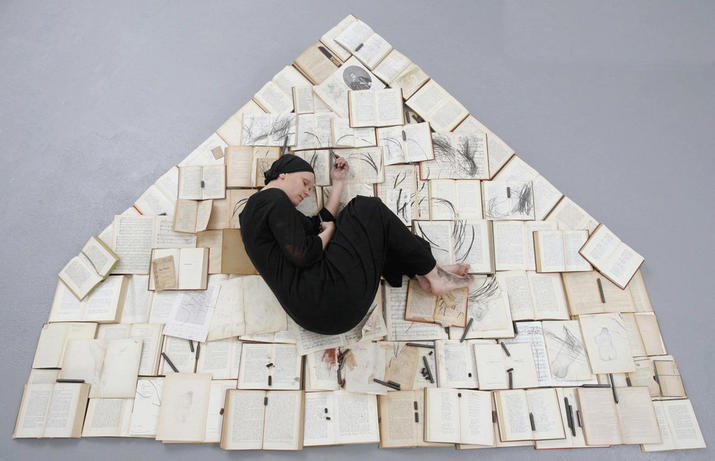 ---
Clinging to one's humanity over time
by
Henry Lehmann
in
The Gazette (Montreal)
June 23, 2007

(...)

New York artist Monika Weiss' works, photos, drawings, and installations are now on view at Galerie Samuel Lallouz in a solo show titled Between Body and History: Recent Works.

The notion of inner psychological states - call this subjectivity- lurks somewhere in an unusual piece that documents a previous European performance by Weiss and is titled Phlegethon-Milczenie III.

The work currently on view is considered an original Weiss work in and of itself, although the main medium is simply books. In a seamless colour photo, smoother than glass, the books are spread out on a floor to make the shape of a two-dimensional architecture of a house. Included elsewhere in this show are actual books.The books are in German and published before the end of World War II. Curled up on the books, like a snug kitten, is a sleek model. In fact, the life-form that has managed to get to the centre of the carpet/house without ruffling too many yellow pages is more reminiscent of a human fetus. The closed eyes at once suggest death and the heavenly peace of a full night's sleep.

That this is no normal fetus, but rather a chic, precocious one, comes through in her black robe - very much in the timeless style of artist Louise Nevelson. The robe highlights the skeletal pink-white of the woman's beatific face, perhaps on loan from Sandro Botticelli. This perfect skin contrasts with the rough paper surfaces of the pages of the old books, themselves metaphors for human tissue and, of course, for thought, in that the books refer indirectly to the way established thought can amount merely to tissues of lies.Indeed, the markings on some of the books either suggest the one-time presence of an angry person - anger at the entirely objective truths put forward in some of the nearby literature.

Something that happens in Weiss's work, in what seems an objective manner, is that at some point the books quit being just books and become primarily art forms. They no longer ask to be read, but ask rather that we bear witness to their existence and perhaps see their yellowing pages as measures of time.

In his excellent, thought-provoking text for the catalogue that accompanies the show, Montreal art writer James Campbell explains that "Weiss is concerned with the fragile nature of human subjectivity and the traces it leaves as it negotiates space and time."


Between Body and History: Recent Works, by Monika Weiss, remains on view at Galerie Samuel Lallouz, 1434 Sherbrooke St. W., room 200, until June 30. Call (514) 849-5844.