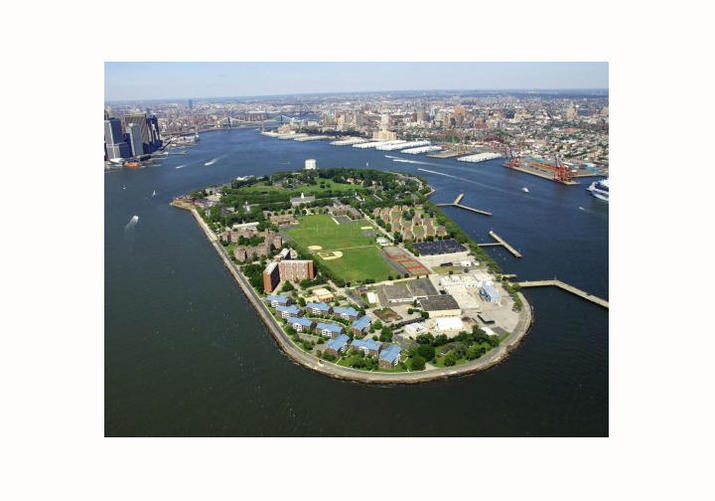 ---
No Longer Empty's The Sixth Borough on Governors Island
Review
by
Steven Kaplan
in
The Thing
June 2010
---
No Longer Empty's "The Sixth Borough" on Governors Island is just a short (and free) ferry ride from the southern tip of Manhattan, but might as well be on the moon for most New Yorkers. It's a former Coast Guard base, now closed, deserted, fallow. Bucolic, suburban overtones. Georgian architecture and extensive greens, like a college campus. Alternate reality. Eerily quiet, yet with full, dramatic views of the world's most famous urban skyline. The land that time forgot, filled with intimations of a lost past, dislocations of history. The mournfulness of shuttered buildings gone to seed, edging into disrepair and decrepitude. Peeling paint, cracked plaster, old fixtures, rusty screen doors: a musty atmosphere.
GI seems a readymade for artistic intervention. Two recent projects are easily recalled. (1) Public Art Fund sponsored Allison Smith's The Muster (May 2005), based on the Civil War re-enactment. Artists camp out on parade ground, create projects in tents. Banners, flags, uniforms. Anachronisms, performances, declaimed statements of purpose. "What are we fighting for?" Then, just last summer, (2) Creative Time's PLOT09: This World & Nearer Ones. As title suggests, also acknowledged the "otherness" of GI, an historical anomaly abutting the mainstream of NYC. Projects all over island, even on wooden wall of ferry landing. (Lawrence Weiner's text piece still there).
Themes explored by NLE in Sixth Borough - curated by Slome and Navarro - as per the press release: "Paradox and the parallel realities of the mainland and the island which exist in spatial proximity but in different states of being. Sense of displacement. Notions of memory, residual entities of the past and transitions between worlds." Responses to these themes allow for twenty-odd site-specific projects that evince a solid rooting in scatter art, trompe l'oeil installations, performance, architectural interventions, light effects and diffractions, projected video, as well as photography and painting.
Note: Unlike other NLE exhibitions, which occurred in commercial spaces, Sixth Borough is staged in four empty houses along "Colonel's Row", where the top brass used to live - a decidedly residential setting. But GI has been uninhabited for years, unlike more typical NLE locations that are recent victims of the recession. Art in Sixth Borough often responds to the ghostly aspects of depopulation, to an architecture of home and hearth rendered inert and dysfunctional by long periods of desertion, to the absent human figure.
[...]
An installation of books, PHAOS by Monika Weiss, assembles classical tomes in a loose circle in front of a fireplace, like an oracle. They are open, some contain inscribed drawings in black, and several old telephones are scattered within the circle. Combined with this central installation are several projected videos containing ritualized performances that seem to commune with memory, through the senses, and communicate back through time.
PHAOS BY MONIKA WEISS
THE THING