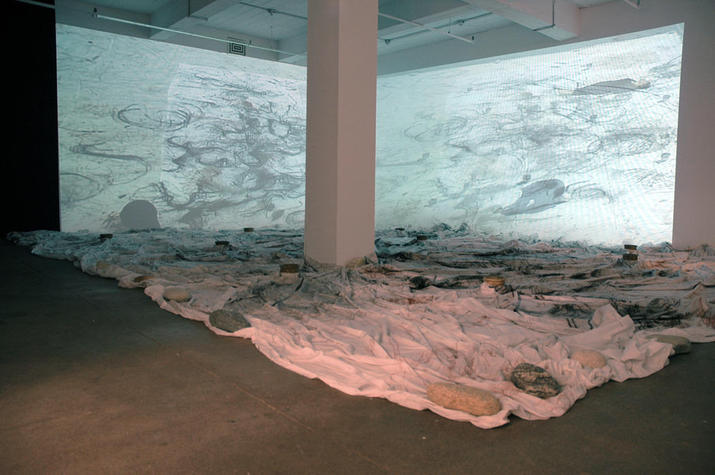 ---
Monika Weiss: Leukos—Early Morning Light
Kaarina Kaikkonen: The Presence of Absence
Review
by
Helena Winston
in
art US
issue number 13 | may - june 2006
artUS
Remy Toledo Gallery, New York, January 20 – February 25, 2006
Curator Julia P. Herzberg's pairing of Monika Weiss and Kaarina Kaikkonen at Remy Toledo is a stroke of genius. At first glance, the two artists' separate solo shows seem to be merely sharing space and not much else: Weiss' installation combines music, film, drawing and a giant cotton sheet with graphite markings—all traces of a performance from September 2005, while Kaikkonen's multiple pieces feature flayed shoes, canvases and sculptures constructed of various garments, and a sculpture made of toilet paper. And yet, an exploration of the two together generates thoughts about germination and sedimentation, and about the traces left by the body. While the linkages between Weiss' and Kaikkonen's works generate a specific set of interpretations and meanings; each of these artists certainly stands on her own. The two are by no means coincident in their aims or effects. For Kaikkonen, a Finish artist, this was her first exhibition in New York. For Weiss, a Polish-born established performance artist who lives and works in New York, this was her second show at the gallery.
Weiss' Leukos (2005) was created on Lehman College grounds as part of a concurrent survey exhibition of the artist's work at Lehman College Gallery. Over a period of several days, the artist lay on an enormous cotton sheet and traced her silhouette over and over, rhythmically. At times, children and other adults joined her. The installation at Remy Toledo is thus the tracings and remnants of this performance and interaction. The sheet that had once comfortingly enclosed human beings lies like an ocean over the gallery floor. Although of course it is not permitted, one wants to jump into this sea of fabric and lie down amidst the folds. Preparatory drawings hang nearby on two of the walls, and on the other two, documentary projected video scenes of the original performance alternate with clips of natural processes, like falling water. Phrases from classical arias, sung by her collabortor Anthony Roth Costanzo and re-composed by Weiss swell the room. The edited projected clips of natural processes and the bowls filled with water that are spaced throughout the sheet seem to allude to the body's return to, and imbrication in, nature.
While Kaikkonen's works do not record the traces of a specific human event or performance, her works, made of fragments of dress shirts, pants and women's shoes also inscribe the simultaneous previous presence and current absence of the body. In Journey (2005), shirts, those ephemeral shells of the body, have been sewn together in horizontal strips to become geologic sedimentary layers. Shirt labels, those coveted names in contemporary life, become hieroglyphs buried amidst hundreds of others, meaningless in and of themselves. Journey thus speaks to both the futile nature of commodity capitalism and the inevitable mortality of both fashion and the body. Queen of the Night (2005) displays shoes that have been altered to resemble both flowers and insects that crawl the wall. Soles become petals or wings, and heels stamens or insect feet. The pollinator and the pollinated collapse as that object of fetishism, the woman's shoe, morphs into an object with a life of its own. The Journey Home (C-prints on aluminum of a 1995 installation) shows bodiless suits crawling across the floor. While the latter is somewhat creepy, the former two are hauntingly beautiful, provoking childlike wonder. These landscapes of clothes, and shoes like fruit flies, like Weiss' work, suggest relationships between the body and nature. My Silhouette (2005) is the one work that doesn't quite, at least formally, fit in with the others. Made of toilet paper, its loops quiver and shake. Still, it too speaks to the ephemeral nature of the body and its simultaneous beauty (in the composition) and baseness (through the toilet paper and its indirect reference to excrement.)
Both Weiss' and Kaikkonen's works examine the finite nature of human life and indicate that daily and simple activities can have enormous, almost magical significance. Beauty, a subject that is often avoided, is palpably present in both exhibitions. Both artists encourage viewers to slow down their lives, to think about the enormity of time and perhaps to live more fully in the present.
Published by ArtUS, Los Angeles, CA, May-June 2006