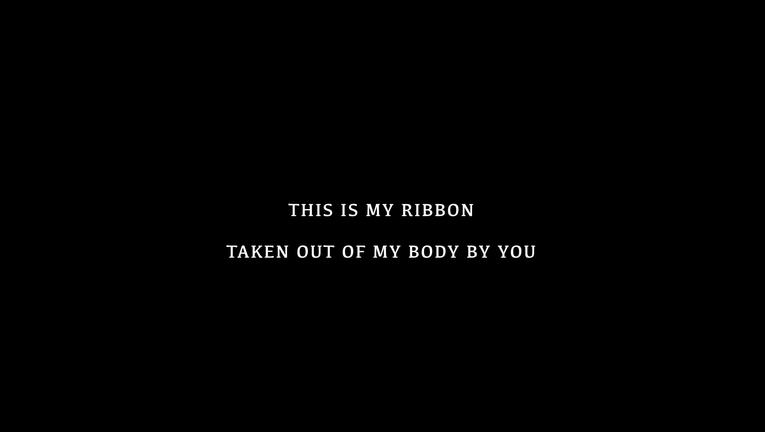 ---
Monika Weiss
Notes on Two Laments (19 Cantos)
19 projections with sound & silent. 4K digital film. Varying duration from 3 - 28 min. each
Series of Drawings
Sculpture with water and projected video
(work in progress, 2015 - )

Two Laments
Two Laments is a series of 19 short film projections with sound (19 Cantos) and a related related series of drawings, film stills, photography, public performance and sculpture, considering public memory and amnesia in the construction of the space of a city. Two Laments is a response to the two forms of violation of two kinds of embodied sites: the body of the woman and the body of the city.
19 Cantos may be presented as a continuous film projection, or as an installation consisting of multiple projections in one large space, as well as a series of concurrent projections in multiple rooms. In addition to 19 short films Two Laments includes a series of drawings and photographs, a public performance and a sculpture with water and projected video.

Project History
In October 2014 Amit Mukhopadhyay, curator in the public sphere based in Kolkata, India, invited me to create a new project in relationship to the city of Delhi. I conducted intense and intuitive research into the history of Delhi, while continuing my focus on Lament as a vehicle of meaning in relation to postmemory. I became focused on two events and two sites of trauma: the recent brutal bus rape and killing of Jyoti Singh on December 16, 2012, and the colonial residue of India Gate memorial, whose foundation was laid on February 10, 1921 by the Imperial War Graves Commission.

On December 16, 2012 in Munirka/Delhi, 23-year-old Jyoti Singh Panday (sometimes referred to as Nirbhaya) was brutally gang-raped on a moving bus and later died. In court transcripts of the trial, I found a statement by one of the perpetrators who remembered seeing a red ribbon coming from her body. The red ribbon, which upon further investigation revealed itself to be her intestines, signified her body being taken inside out, a horrific and transgressive exaggeration of the act of the rape itself. This fact became a catalyst for the entire project of Two Laments . In 19 Cantos the red ribbon becomes a veil poetically enshrouding Delhi, which becomes a meta-city, standing for all cities bearing traces of historical trauma. Dedicated to Nirbhaya (Fearless)—sometimes referred to as "India's Daughter"— 19 Cantos were inspired by Treny (19 Laments) by the 16-century Polish poet Jan Kochanowski on his daughter's death.

Rape of the Body, Rape of the City
The gang rape of Nirbhaya stands for rapes committed around the world as acts of war and aggression, reaching far beyond any notion of desire or sexuality. A woman's rape is often culturally associated with victimhood and actively erased from cultural memory. The city - understood as public space - protects its public memory, which should not be "polluted" with the memory of crimes against bodies of women. There are no memorials engraved with the names of rape victims, and, by extension, there are no memorials to women who have fallen as victims of war. The 2012 gang rape was a grotesque and extreme form of prolonged torture that took almost two hours as the bus was moving through the city of Delhi, thus implicating the entire city, and by extension, any city around the world.

19 Cantos
19 Cantos is a series of short film projections. Most of the projections are composed with sound, which I have developed from recordings done in Delhi, as well as working with Carnatic singers who performed my compositions. A number of Cantos are silent. The projections show slow, gradual, repetitive movements performed by young women volunteers whom I choreographed and filmed in Delhi and New York. Each woman occupies one film projection, however she is almost always seen as two figures. In most of 19 Cantos the presence of Nirbhaya is evoked as two women, or rather, as one woman seen twice, filmed in different times, yet seen by us at the same time thanks to film editing technologies. The gap of time between the different incarnations of Nirbhaya and the possibility of seeing both versions of her presence simultaneously creates a space marked by circular and suspended time.

The slowness of time and movement, as well as the specific tempo employed in this work, are meant to prolong the symbolized and thus veiled, enshrouded (and not exposed), moments of trauma. Through doubling of Nirbhaya's figure I want to make a third space, a zone between her two incarnations, towards an intimate and affective bond. In 19 Cantos Nirbhaya is almost never alone; she is always with the other self, her sister, who may also represent our own presence and participation. In Canto 3, Nirbhaya lies down on a map of old Delhi as it was published in The Illustrated London News on Jan 16, 1858, showing the city a few days before the siege by the British in 1857. She moves gradually, very slowly. Her body becomes two. She is dressed in a long black robe, which gradually becomes soiled by the dirt of the ground, as if stained by the map of the city itself. She also seems to enshroud the city with her body, with her presence, and with her veil. Ultimately, by the end of the projection, it is she and her double, two women that disappear, leaving traces and headscarves laid over the surface of the city. Nirbhaya, her double, and the city of old Delhi, approximately the size of her body, merge together.

India Gate
India Gate memorial was built by the British Empire centrally within New Delhi to commemorate Indian soldiers who died for the Empire during the First World War. India Gate, modeled after Arc de Triomphe in Paris (albeit larger and taller than its French model), mirrors the grand design of the entirety of New Delhi; the same architect, Edwin Lutyens, designed both. It seems New Delhi is intended as a form of architectural and cultural response to Old Delhi, perhaps to "teach" India what culture should look like. The intended meaning of the memorial is further complicated by the typical omission of the actual war representation in the architecture and design of the monument, bearing engraved names of some 80,000 soldiers.

The war itself is usually absent from war memorials in order to enable our selective forgetting of its full dimension, which is the destruction of life on a massive scale. India Gate thus represents a typical heroic style, institutionalized and cleansed from the embodied death/ war pollution. In Two Laments this monumental, heroic, and cleansed form of public memory contrasts with the polluted, intimate, embodied, and quickly erased memory of rape and torture.

In 19 Cantos the city of Delhi becomes a meta-city bearing traces of historical trauma represented by two sites: the body of Nirbhaya and the body of India Gate. Two Laments addresses global narratives of violence against women and cities. While Nirbhaya stands for the forgotten and often-erased memory of gender-based violence, the memorial represents colonial history, war-related amnesia, and the heroic and institutionally cherished memory of fallen soldiers.

India Gate Performance
Evoking ancient rituals of lamentation, the second part of the project, whether imagined in film only or executed in reality, will include a large-scale performance around India Gate, filmed from an airplane, with participation from hundreds of women volunteers. Performing silent gestures of lamentation, the women cover the ground around India Gate with large sheets of white canvas, which they then stitch together. Seen from the great distance in the projection, they lie down, drawing abstract lines around their bodies. India Gate becomes immersed in a drawing landscape where empathy and collective mourning become political tools in opposition to heroic fantasies of conquest and power. Filmed from the airplane, the film shows the performance from a great distance, with the identities of the participants woven into a story about the city and its fluid surface.

India Gate Down
In a rendering for a sculpture that I plan to build Two Laments (India Gate Down), one sees a large sculpture resembling India Gate lying down on the ground, doubled as if it was in mirrored perspective. Lying vertical, the gate is rendered unusable. The logic of this horizontal, doubled gate is through association of this memorial and victorious object with the raped body that has been defiled internally. I plan to fill the internal crevice of the arched gate (once its mirrored form becomes a basin shape) with water and with the cinematic projection of a body.


CREDITS
Written, directed, composed, choreographed, filmed, recorded, and edited by the artist.

Texts:
Meena Alexander's poem Moksha is incorporated into Canto 4 with the permission of the author and of the publisher: Atmospheric Embroidery (Hachette India: New Delhi, 2015).

This Is My Ribbon is a poetic text that I wrote in English in March 2015 while in New Delhi. It was translated into Sanskrit, Hindi, Bengali, and Oriya by Mr. Dasgupta, Md. Saffique, and Basanta Sahoo. Additional translations into other languages are in progress. The text appears in written and oral form throughout 19 Cantos.

Volunteer Performers & Vocalists include:
Priyanka Bhardwaj, Anarya Dodes, Vinita Dasgupta, Divya Khandekar, Neha Naraya and Ruth Blair Moyers. More performers volunteers will be listed upon the completion of the project.

Acknowledgments:
Special thanks to Amit Mukhopahyay, curator in the public sphere, Kolkata; the Polish Cultural Institute, New Delhi; Sanskriti Museums & Foundation, New Delhi, Goethe Institut New Delhi; Hyphen-Hub, New York; and numerous individuals who contributed efforts to this project, including studio assistants and interns, Gretchen Oldelm, Jun Bae, and Yulin Peng.