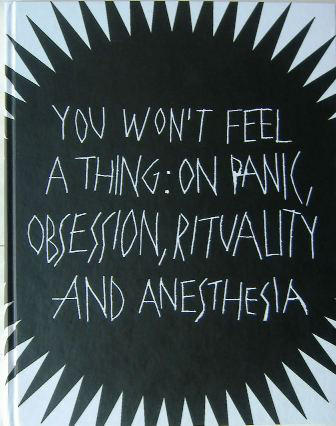 ---
You Won't Feel A Thing
Publisher: Kunsthaus Dresden & Wyspa Art Institute, Gdansk
2008
Hard cover, 53 illustrations., 80 pp, format: 17,5x22 cm
Edited by: Aneta Szylak/Wyspa Institute of Art and Christiane Mennicke/ Kunsthaus Dresden
Texts by: Magda Pustola and Aneta Szylak
Language: English
ISBN: 978-3-935843-88-1
To order email:sekretariat@wyspa.art.pl
Price 18Euro + shipment cost
Artists:
Pawel Althamer
Bogna Burska
Ursula Doebereiner
Lili Dujourie
Angelika Fojtuch
Steffen Geisler
Lise Harlev
Ellen Harvey
Hiwa K.
Agnieszka Kalinowska
Grzegorz Klaman
Piotr Kopik
Jill Mercedes
Sebastian Meschenmoser
Dominika Skutnik
Paweł Kruk
Dominik Lejman
Yvette Mattern
Ivan Moudov
Anne Olofsson
Dominik Pabis
Susanne Weirich
Monika Weiss
Artur Zmijewski
From the editors:
States of uncertainty, undefined fears, cracks in perception, irrational behaviors, unshaped longings for relief that never comes or comes too late. Self-harm, medications, meditations and anesthetis. Purposeless rituals, desire without need. Rootless obsessions and incurable panic attacks. "You won't feel the thing" captures the state of mind of the individual under the pressure of contemporary reality. A reality fractured by fraudulent, stimulated, collective consciousnesses, of false prophets and failed social projects, marked by crises of both rationality and spirituality
In reaction to this situation, overwhelmed by panic, obsession or the desire for anesthesia, individuals perform personal rituals that extend, suspend or freeze time to allow themselves to experience their private selves. Ignoring the all-pervasive social relations that generally frame and inform the self, this exhibition looks inward to focus on internal and personal reality. It tracks the uncertain sensations, perceptual gaps and slight cracks in reality. It approaches fear on the level on which it might pass unnoticed. It is heading toward the places where satisfaction, success and pleasurable addictions and consumption are no longer able to cure the unbearable disintegration of self.
WYSPA ART INSTITUTE