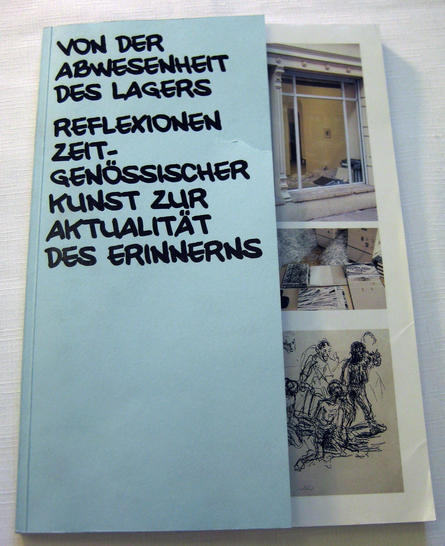 ---
Von der Abwesenheit des Lagers. Reflexionen zeitgenössischer Kunst zur Aktualität des Erinnerns
["On the Absence of the Camps. Reflections in contemporary art about the timeliness of remembrance"]
Publisher: Kunsthaus Dresden
Verlag: Verbrecher Verlag (September 2006)
Broschiert: 186 Seiten
Sprache: Deutsch
ISBN-10: 3935843755
ISBN-13: 978-3935843751
VON DER ABWESENHEIT DES LAGERS
Reflexionen zeitgenössischer Kunst zur Aktualität des Erinnerns
In Kooperation mit dem Kunstfonds / Staatliche Kunstsammlungen Dresden
Artists:
KATALIN BÓDI
RAINER GANAHL
JOCHEN GERZ
JÖRG HEROLD
HORST HOHEISEL
FRANCIS HUNGER
GYÖNGYI KALÁNYOS
BERND KILIAN
KLUB ZWEI
ULRIKE KUSCHEL
MICHAELA MELIAN
ULRIKE MUNDT & SVEA DUWE FÜR STAFETA
HENRIK OLESEN
OMARA
BARAK REISER
TIM SHARP
MARTIN SCHMIDL
JOSEF STRAU
LUC TUYMANS
MONIKA WEISS
ANNETTE WEISSER
JAN WENZEL
ARTUR ZMIJEWSKI
Kuratiert von Christina Beifuss, Katrin Krahl, Maja Linke, Christiane Mennicke (Kunsthaus Dresden) und Silke Wagler (Kunstfonds/Staatliche Kunstsammlungen Dresden)
Die Aussstellung "Von der Abwesenheit des Lagers. Reflexionen zeitgenössischer Kunst zur Aktualität des Erinnerns" zeigte zwischen März und Mai 2006 eine internationale Auswahl künstlerischer Beiträge, die sich mit der Erinnerung an die NS-Zeit in Europa beschäftigen und eine konstruktive wie kritische Auseinandersetzung mit etablierten Ritualen des Gedenkens nahe legten. Der Begriff des Lagers steht hier einerseits für die räumliche Präsenz von Konzentrations- und Zwangsarbeiter/innenlagern der NS-Zeit, er bildet andererseits eine metaphorische Klammer in Hinblick auf die prinzipielle und schrittweise Entrechtung menschlichen Lebens wie sie unter anderem durch den den italienischen Philosophen Giorgio Agamben erfasst und in den Dresdner Tagebüchern Victor Klemperers ebenfalls eindringlich beschrieben wurde. Während die Ausstellung exemplarisch auf die Aktualität des Erinnerns in Deutschland und Europa einging, fokussieren die Textbeiträge zu exemplarischen Themenfeldern eine kritische Auseinandersetzung mit den historischen Entwicklungen in BRD und DDR wie auch den aktuellen Tendenzen in der Gedenkkultur des wiedervereinigten Deutschlands vor dem Hintergrund von Dresden.
English:
The exhibition titled "On the Absence of the Camps. Reflections in contemporary art about the timeliness of remembrance" took place from March to May 2006 at Kunsthaus Dreasden. An international selection of artistic contributions this exhibition deals with the memory of the Nazi era in Europe and as a constructive critical engagement with the established rituals of remembrance. The term "camp" is used here to suggest a spatial presence of concentration and forced labor / interior camps during the Nazi period, but on the other hand, it is also a metaphor regarding the principal and gradual deprivation of human life as it is described, among other writers, by the Italian philosopher Giorgio Agamben; and as it was also recorded and described vividly in Dresden, in Victor Klemperer's diaries. While the exhibition is conceived to relate to the timeliness of remembrance in Germany and in Europe, it is also focusing on the exemplary topics of critical examination of the historical developments in East and West Germany as well as the current trends in the memorial culture of reunified Germany against the backdrop of Dresden's own history.
PURCHASE ON AMAZON HERE