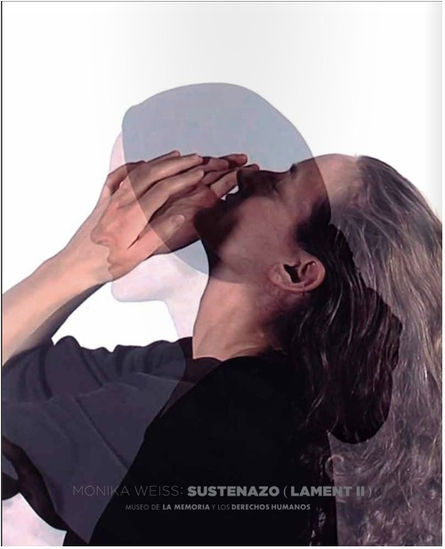 ---
Monika Weiss: Sustenazo (Lament II)
Publisher: Museo de la Memoria y Los Derechos Humanos, Santiago, Chile
December 2012
General Editor: Julia P. Herzberg
Essays by Adriana Valdes and Julia P. Herzberg
89 pages, softcover
Languages: Spanish, English
Read the Publication Online Here:
PURCHASE ON AMAZON HERE
From the editors:
Museo de la Memoria y Los Derechos Humanos presents a monograph publication on the work of contemporary artist Monika Weiss in conjunction with "Monika Weiss: Sustenazo (Lament II)" exhibition, December 2012-April 2013. Edited by: Julia P. Herzberg. The eighty-eight page bilingual illustrated catalogue includes two essays: "Conversation with Monika Weiss" by Julia P. Herzberg and "Lamentation and the Locus of Memory: Monika Weiss's Sustenazo (Lament II)" by Adriana Valdés together with the Director's Introduction (Ricardo Brodsky Baudet / María José Bunster), Preface (Julia P. Herzberg), Video Stills, Artist's Selected Biography, Collaborators' Bios, and List of Works in the Exhibition. In the "Conversation" Monika Weiss provides a provocative discussion around: memory and amnesia in the construction of urban space; the metaphorical comparison of the body of a city to the human body and memory; the necessity for developing a language of public lament.
"From the memory of pain is born an infinite lament that struggles against an eternal return: "Sustenazo (Lament II)" by Monika Weiss. Sustenazo invites viewers to undergo a sensory experience inspired by the forced evacuation of more than eighteen hundred patients and medical personnel from the Ujazdowski Hospital (today, the Centre for Contemporary Art Ujazdowski Castle [CAA]) during the Warsaw Uprising in 1944. In this video, gestures and sounds combine to evoke the universal pain expressed through a dance of continuous lament, as if it were a prayer, a plea, or an expression of grief, remorse, and condemnation. Within contemporary artistic modes or language, Weiss transforms the memory of the thoughtless violence of war into a poetic exercise, which encourages a conceptual and material reinterpretation of brutality." (Ricardo Brodsky, Museum Director)