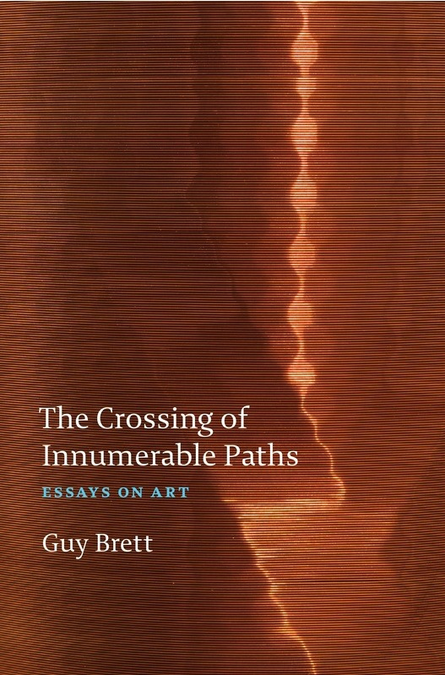 ---
Forthcoming:
The Crossing of Innumerable Paths Essays On Art
by Guy Brett
Rinding House, London, July 2019
Ridinghouse
46 Lexington Street
London W1F 0LP, UK
tel +44 (0)20 7734 9008
fax +44 (0)20 7734 9021
info@ridinghouse.co.uk
Ridinghouse publications are distributed in the UK, Europe and Australasia by Cornerhouse and in the US by RAM Publications + Distribution, Inc.
About the book:
Celebrated art critic and curator Guy Brett is a leading writer who has made a significant contribution to art criticism and curating. From the 1960s onwards he has championed influential and experimental artists across the world through some key exhibitions and publications. The fourteen essays in this book bring together a unique gathering of artists, tracing their diversity and singularity. Many of these artists make works which arise out of their responses to the situation or the environment in which they find themselves, a process that draws on the countless interactions people have and the many ways that they connect.
Essays in the book:
Ana Mendieta
Dias & Riedweg
Javier Tellez
Jimmie Durham
Monika Weiss
Len Lye
Gianni Colombo
Liliane Lijn
Gego
Anne Bean
Aubrey Williams
Victor Grippo
Peter Kennard
Lygia Pape
'Time Being' is an essay on the work of Monika Weiss. It was originally published in 2006 by the Lehman College Art Gallery, City University of New York in collaboration with Galerie Samuel Lallouz, Montreal, in "Monika Weiss: Five Rivers" on the occasion of the artist's first retrospective exhibition.
About the author:
Guy Brett (b.1942) is a London-based art critic, curator and lecturer in art. He was awarded an Honorary Visiting Professorship at the University of the Arts, London and in 2005 was invited to Harvard University as a visiting scholar. In 2018 the Museum of Modern Art in Rio de Janeiro paid tribute to Brett for his decades-long intellectual devotion to Brazilian art. Selected publications include Kinetic Art: The Language of Movement (1968), Through Our Own Eyes: Popular Art and Modern History(1986), Mona Hatoum (1997)and Force Fields: An Essay on the Kinetic(2000). Brett has written seminal monographic essays on artists such artists as Susan Hiller, Rose Finn-Kelcey, Lygia Clark, Hélio Oiticica, David Medalla, Rose English, Mona Hatoum, Takis, and others. From 1964–75 he was art critic of The Times, and from 1981–83 he was visual arts editor of City Limits. He has written extensively for the art press, including Art in America, Artforum,Third Text, Studio International, Signals,Black Phoenix, Revista de Critica Cultural, Cahier Witte de With, Friezeand Parkett. As a curator he organised many influential exhibitions including In Motion (1966),Transcontinental: Nine Latin American Artists (1990), Out of Actions: Between Performance and the Object (1998), and Force Fields: Phases of the Kinetic (2001). In 2019 he co-curated with Michael Wellen at Tate Modern, London, an exhibition of the work of the Greek artist Takis, the first substantial showing of the artist's work in Britain since the 1960s.
READ MORE ABOUT THIS BOOK HERE