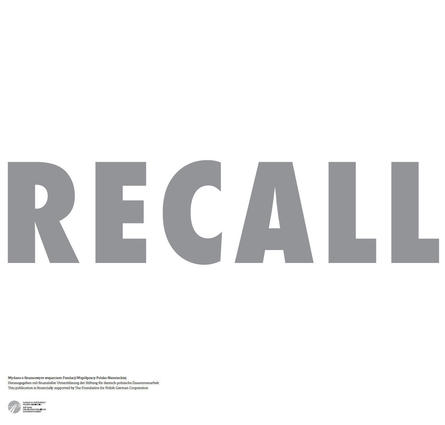 ---
RECALL: Roland Schefferski & Monika Weiss
Published by Muzeum Ziemi Lubuskiej & Biuro Wystaw Artystycznych (BWA) Zielona Góra
Hardcover, 120 pages
Languages: Polish, German, English
ISBN 978-83-88426-79-7
2014
Catalogue essays by: Axel Feuss, Julia P. Herzberg, Jakob Huebner, Leszek Kania, Wojciech Kozłowski
Read Essay by Wojciech Kozłowski Here
Read Essay by Julia P. Herzberg Here
June 11 & 12, 2014:
The publication was launched at the Western Institute in Poznań (Poland) in collaboration with Kulturpolitische Gesellschaft e.V, during an international conference "Culture and Politics of Culture in Poland and Germany After 1989. Conclusions, Debates, Perspectives".
June 13, 2014:
The publication was launched at the Muzeum Ziemi Lubuskiej in Zielona Góra. Poland.
RECALL is a publication resulting from two exhibition by two artists born in Poland who live and work in New York and Berlin respectively, Monika Weiss and Roland Schefferski. These two individual yet thematically connected exhibitions were organized by Galeria BWA and Muzeum Ziemi Lubuskiej in 2012: "Całuny" by Monika Weiss and "Z życia Europejczyków" by Roland Schefferski. Partnering institutions include Stiftung Neue Synagoge Berlin – Centrum Judaicum.
The exhibition "Monika Weiss: Całuny-Shrouds" has received generous support from Galerie Samuel Lallouz, Montréal.
The catalogue has been published thanks to the support of Polish-German Collaboration Foundation (Fundacjia Współpracy Polski-Niemieckiej)