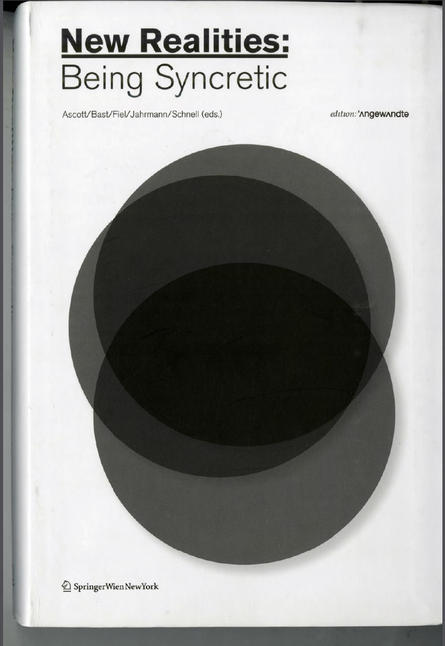 ---
Krasis (Ennoia)
by
Monika Weiss
in 'New Realities: Being Syncretic. IXth Consciousness Reframed'
Series: Edition Angewandte
Ascott, R.; Bast, G.; Fiel, W.; Jahrmann, M.; Schnell, R. (Eds.)
Publisher: Springer, Wien/New York
2009, 360 p. With num. figs. With DVD.
ISBN 978-3-211-78890-5
AMAZON
Drawn from the contributions to the 9th international "Consciousness Reframed" research conference held at University of Applied Arts Vienna in 2008, this publication aims for a timely re-definition of contemporary syncretic inquiries into the fields of art, science, technology and society through theory and practice alike, reframing the concept of innovation in its relationship to progress and change within the context of perception and its transformation. It comprises a wide range of outstanding expertise and insights of artists, architects, performers, musicians, writers, scientists, and scholars. Among the authors from at least 20 countries are Roy Ascott, Gerald Bast, Jim Gimzewski, Pierre Lévy, Ryohei Nakatsu, Michael Punt, Ruth Schnell, Barbara Maria Stafford, Alfred Vendl, Victoria Vesna, Peter Weibel and Monika Weiss. The publication includes full papers and a DVD, edited by Ruth Schnell, with short video extracts of the event and accompanying visual reference.
TABLE OF CONTENTS
Introduction: Gerald Bast; Roy Ascott
Contents:
Roy Ascott; Elif Ayiter; John Backwell/John Wood; René Bauer/Beat Suter; Laura Beloff; Martha Blassnigg; Ingrid Böck; Wulf Walter Böttger; Pier Luigi Capucci; Simona Caraceni; Antonio Caronia; Linda Cassens Stoian; Isabelle Choinière; David Crawford; Nina Czegledy; Margaret Dolinsky; Hannah Drayson; Alan Dunning/Paul Woodrow; Ernest Edmonds; Jürgen Faust; Wolfgang Fiel; Andreas Leo Findeisen; Karmen Franinovic; Gonçalo Miguel Furtado; Cardoso Lopes; Martha Carrer Cruz Gabriel; Gregory P. Garvey; Luis Miguel Girão; Tina Gonsalves; Jochen Hoog/Manfred Wolff-Plottegg; Birgit Huemer; Jung A. Huh; Salvatore Iaconesi/Oriana Persico; Margarete Jahrmann; Jennifer Kanary; Nicolaj Kirisits; Bernd Kraeftner; Martin Kusch; Iro Laskari/Dimitris Charitos; Kieran Lyons; Franco Marineo; David McConville; Francesco Monico; Max Moswitzer; Sana Murrani; Ryohei Nakatsu; Martha Patricia Niño Mojica; Carlos Nóbrega; Robert Pepperell; Michael Punt; Susanne Ramsenthaler; Barbara Rauch; Nicolas Reeves; Clarissa Ribeiro/Gilbertto Prado; Ana Rosa Richardson; Glauce Rocha de Oliveira; Natacha Roussel; Semi Ryu; Miguel Santos; Jinsil Seo/Diane Gromala; Christa Sommerer/Laurent Mignonneau/Michael Shamiyeh; René Stettler; Randall Teal; Federica Timeto; Naoko Tosa/Seigo Matsuoka; Sarah Tremlett; Nicholas Tresilian; Suzete Venturelli/Mario Maciel/Johnny Souza; Natasha Vita-More; Monika Weiss; Claudia Westermann; Manfred Wolff-Plottegg; Katarzyna Maria Wozniak; Mariela Yeregui/Mariano Sardón; Brigitta Zics; Rachel Zuanon.-
CR9 Ambient DVD
Biographies