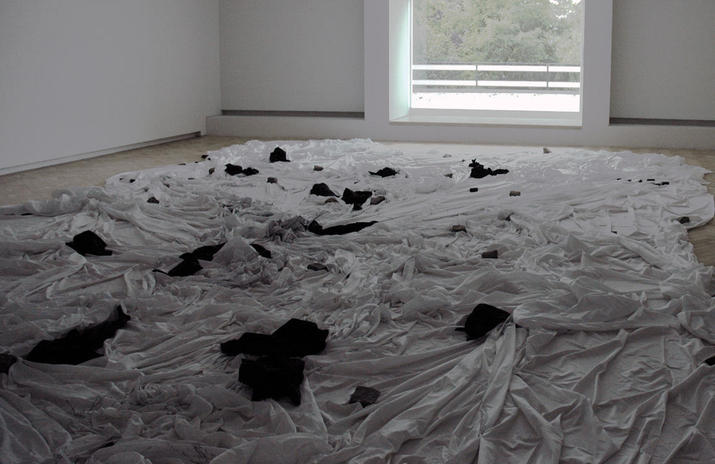 ---
Monika Weiss - Anamnesis II
May 31- June 30, 2013
FBAUP Museum, University of Porto, Portugal
Cotton canvas, charcoal, graphite, performance, projected video, sound composition, limited edition color prints.
SEE MORE HERE
From the Press Release:
Monika Weiss' Anamnesis II is a site-specific, ephemeral installation that includes public performance, projected live video and sound composition. The installation remains on view at the FBAUP Museum of the University of Porto from May 29 to June 30, 2013. The project will result in new work, including limited edition video, text and sound composition by the artist. During her stay in Porto, Weiss filmed her site-specific performance with participation of local women, as well as recorded their voices. Following the installation's initial stages, the filmed and recorded material will then undergo gradual change as the artist builds her new composition from the digitally recorded traces of the event.
As a systematic inquiry into the relationships between history, public space and the space around the body, the work addresses the performative act of drawing as related to speech, trace, erasure and disappearance. It is part of a series of performative installations like Drawing Lethe (2006) and Shrouds (2012), which evoke ancient rituals of lamentation as traditionally performed in response to war. Her current work considers aspects of public memory and amnesia as reflected within the physical and political space of the City. Originally educated as a classical musician, the artist continues to compose sound environments for her installations and cinematic works. Weiss is renowned for the use of her own body as a vehicle of artistic expression and for incorporating historical documents and narratives within her works.