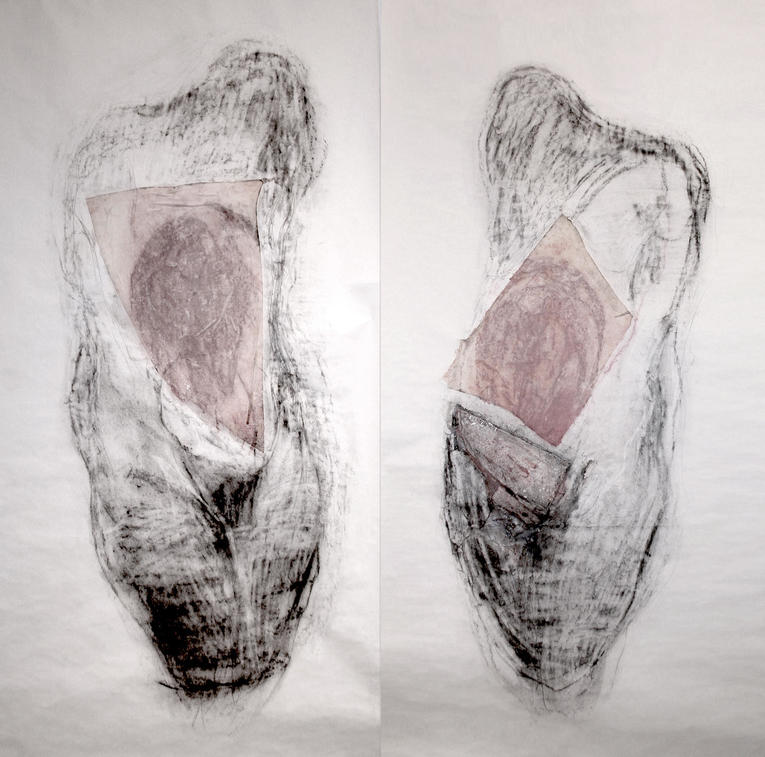 ---
Kentler Celebrates 25
Kentler International Drawing Space
353 Van Brunt Street
Brooklyn, New York 11231
tel. 718.875.2098
Gallery Hours: Thursday - Sunday, 12 - 5pm
Exhibition dates: November 13 – December 13, 2015 / Extended view until January 2016
Opening Reception: Friday, Nov. 13, 6 - 8pm
Curators' Talk: Saturday, Dec. 5, 4pm
Monika Weiss, who had her solo exhibition at the Kentler International Drawing Space in 2006 (Limen II: Multi-media installation, drawing and performance), was invited by curator Charlotta Kotik to participate in the group show celebrating Kentler's 25th Anniversary. Weiss' work in the exhibition, Diptych 1 from Two Laments Drawing Series (2015) is part of her most recent project, Two Laments (19 Cantos) which discusses political forms of collective memory (monuments), commemorating victims of rapes in India. The political body is also referred here to the body of the city. It is comprised of 19 videos with sound and text by the artist, photographs, and drawings.
A brochure with an essay by Rachel Nackman accompanies the exhibition.
Curators: Mariella Bisson, Camille Ann Brewer, Rafael Bueno, Beth Caspar, Karni Dorell, Gail Flanery, Susan Newmark Fleminger, Nene Humphrey, Charlotta Kotik, Nancy Manter, Meridith McNeal, Mercedes Vicente
Artists: Sunny Balzano, John Buchanan, Beth Caspar, Phillip Chen, Karni Dorell, Judith Egger, Anne Gilman, Tadashi Hashimoto, Molly Heron, Mary Judge, Tatana Kellner, Rejin Leys, Bettina Magi, Florence Neal, Margaret Neill, Janet Neuhauser, Bill Nogosek, Elizabeth O'Reilly, Beverly Ress, Martin Reyna, Viviane Rombaldi Seppey, Teri Slotkin, Jane South, Monika Weiss, Martin Zet
READ MORE HERE
Exhibitions, Events and Public Programs are made possible in part, with public funds from: The National Endowment for the Arts (NEA); The New York State Council on the Arts with the support of Governor Andrew Cuomo and the New York State Legislature; The New York City Department of Cultural Affairs in partnership with the City Council.