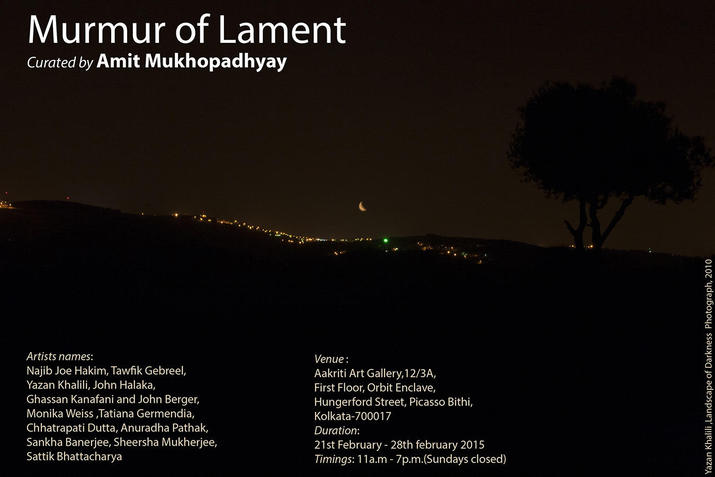 ---
Murmur of Lament
Aakriti Art Gallery
Kolkata, India
21 -28 February 2015
Curated by Amit Mukhopadhyay
MORE ABOUT THE EXHIBITION
Artists:
Monika Weiss (Polish American), Tatiana Germandia (Cuban American), Najib Joe Hakim (Palestine), Tawfik Gebreel (Palestine), John Halaka (Palestine Canadian), Yazan Khalili (Palestine), Anuradha Pathak (India), Sheersha Mukherjee (India), Ghassan Kanafani (Palestine) and John Berger(UK), Sankha Banerjee (India), Chhatrapati Dutta (India), Sattik Bhattacharya(India).
Curatorial text:
What is Lament?
Lament is a form of mourning and a little more than that. A t times it is filled with notes of accusations and at times contriteness and pain. Lamenting is both an individual and communal act which signals that human relationship has gone awry. "Lament is an existential wail which comes from the depths of human soul".1
The cry of lament is filled with unbearable urges, of awareness of memory, anger, and relief, desire for vengeance, it is supremely human. It articulates the inarticulate, tears become ideas. Lamenting is risky, it is "dangerous, restless speech".2 It is risky because it calls into question structures of power.
Antiquity of dangerous voices
Lament has a very long tradition. From what was initially an oral tradition of the anonymous women mourners in early Greece the powerful women lament-songs were appropriated from their original context of oral performance and incorporated into dramatic performances and texts that were composed by male poets and performed by male actors. One such playwright was Euripides who borrowed from the original "native-artists"-women who actually engaged in ritual lamentation-as well as from the traditional oral performance context and integrated into their dramatic poetic text. That is what John Folley calls oral –"derived text", a text with its roots in oral tradition.3 Apart from the women's vocal lamentation what heightened the intensity of such feelings and expressions were the bodily movements like tearing of one's veil, the hair, beating the breast with sounds of aiai, oi, ea, and so forth. This non-verbal signs of female mourning are symbols of archetypal female. The dirges and physical acts, their dramatic physical gestures give rise to the "dangerous voices".
The exhibition titled, MURMUR OF LAMENT, is the first of a series of events related to the lament project. In this exhibition, the curator has invited the following artist both from India and abroad to participate in the show, Monika Weiss (Polish American), Tatiana Germandia (Cuban American), Najib Joe Hakim (Palestine), Tawfik Gebreel (Palestine), John Halaka (Palestine Canadian), Yazan Khalili (Palestine), Anuradha Pathak (India), Sheersha Mukherjee (India), Ghassan Kanafani (Palestine) and John Berger(UK), Sankha Banerjee (India), Chhatrapati Dutta (India), Sattik Bhattacharya(India). The exhibition includes works in different medium like photographs, digital prints, drawing, installation and video. The exhibition will be at view at Aakriti Art Gallery, 12/3A First Floor, Orbit Enclave, Hungerford Street, Picasso Bithi, Kolkata – 700017 from 21 -28 February 2015