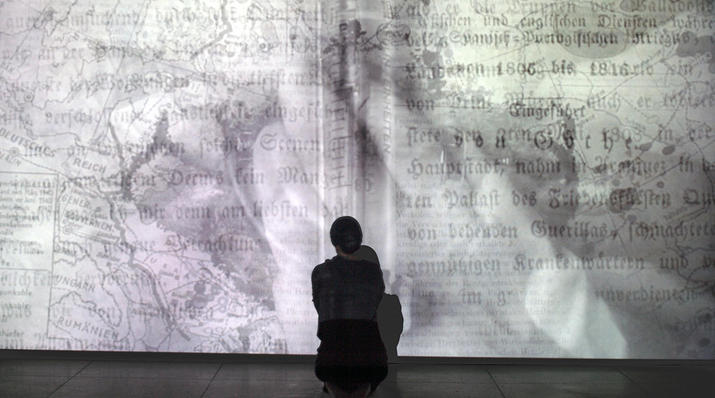 ---
Goethe-Institut / Max Mueller Bhavan presents:
Sustenazo (Lament II)
By Monika Weiss
Ephemeral Installation (Film, sound, performance)
Wednesday, 1 April, 19:30
Goethe-Institut / Max Mueller Bhavan
Siddhartha Hall
MONIKA WEISS-GOETHE INSTITUT NEW DELHI
As part of the programme for Lament curated by Amit Mukhopadhyay, Goethe Institut presents Monika Weiss' Sustenazo (Lament II), an ephemeral film/sound installation during which the artist will conduct a live twenty six-minute performance that will be the same duration as her film and sound composition.
Sustenazo (Greek: "to lament together inaudibly") developed around the notion of Lament as a form of expression outside language: the timeless expression of Lament is juxtaposed against the archive of a specific historical event—the forced overnight evacuation of Ujazdowski Hospital on the sixth day of the Warsaw Uprising in 1944. Sustenazo (Lament II) begins with Chorus Mysticus, a passage from the end of Johann Wolfgang von Goethe's Faust, part II. Sustenazo evokes complex relationship between two seemingly irreconcilable phenomena—high culture and genocide. The work is a reflection on the complexity of European heritage and its connections with other regions and histories around the world, including India.
Monika Weiss is a Polish-American artist whose transdisciplinary work probes relationships between body, history and postmemory. An important part of the artist's works are public projects which are process-based and site-specific environments. Presented here at the Goethe-Institut / Max Mueller Bhavan, Sustenazo was originally commissioned as a solo exhibition by the Centre for Contemporary Art Ujazdowski Castle, Warsaw, Poland in 2010. In 2012 the exhibition travelled to the Museum of Memory and Human Rights, Santiago, Chile and in 2014 was presented at the Patricia & Philip Frost Art Museum, FIU, Miami. Weiss is an internationally recognised artist whose work has been shown in solo museum exhibitions and is included in public collections worldwide. Born in Warsaw, Poland and currently Associate Professor at Sam Fox School of Design & Visual Arts, Washington University in St. Louis, the artist lives and works in New York City.
Supported by:
Polish Cultural Institute New Delhi
Sanskriti Museums, New Delhi