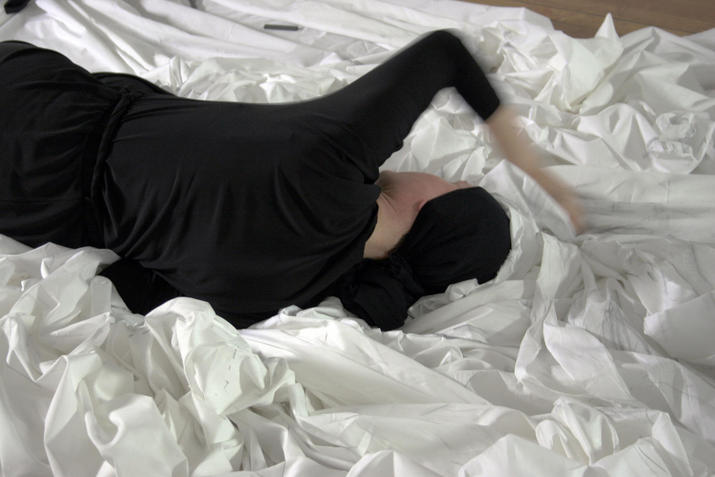 ---
Monika Weiss: Aletheia
part of Tracing Experience
Macy Gallery
Columbia University, New York

Ephemeral installation/performance:
White cotton fabric, black scarfs, graphite, performance
Performance: Thursday, October 24, 2013

From Press Release:
As a systematic inquiry into the relationships between history, public space and the spaces around the body, Monika Weiss' work continues to address the performative act of drawing as related to speech, trace, erasure and disappearance. Aletheia belongs to an ongoing series of performative and interactive installations in which Weiss evokes ancient rituals of lamentation and considers aspects of public memory and amnesia as reflected within the physical and political space of the City.

"Aletheia is an ancient Greek word that refers to the "unhidden" and "unforgotten" memories or objects. It has been also largely discussed and disputed in philosophy of ontology. In my project this title refers to a state of silence, calmness, exposure and openness to an unknown contingency within an interval of time and space—akin to a page of paper ready to be marked. Aletheia belongs to my ongoing series of projects executed in public spaces and institutions internationally since 2003. "Intervals" are drawing landscapes, which can be intimate in scale or taking over a vast expanse of space. I delineate an area of the ground by placing white fabric or paper, which becomes a horizontal drawing surface. I invite passersby to join me in the act of lying down and drawing around our bodies, leaving marks of our presence on those surfaces, and creating an ever-changing design, contingent on the presence of random passersby and their contributions. The surface of canvas placed on the ground relates to an idea of a landscape and that of a City as an ever-changing field/forum and an act of mapping." (Monika Weiss)

Part of "Tracing Experience" exhibition at Macy Gallery curated by Andrea Kantorowitz, and the 3rd annual Thinking Through Drawing international conference.