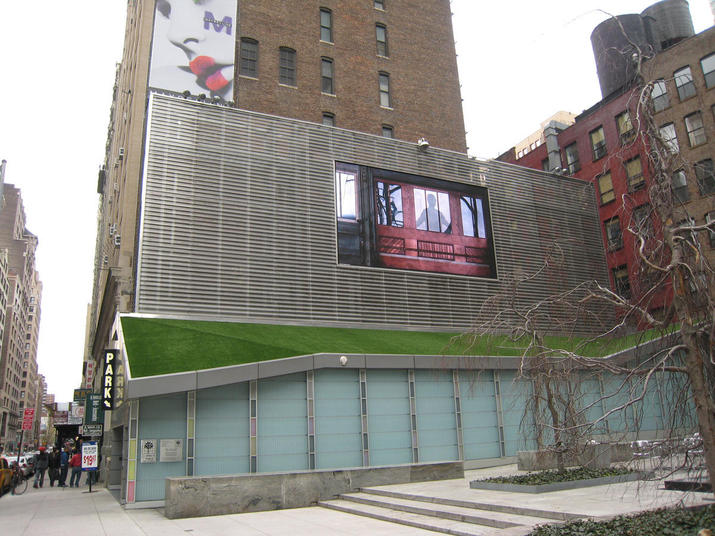 ---
A JOHN CAGE CENTENNIAL TRIBUTE
Streaming Museum at The Big Screen Plaza
851 Avenue of the Americas
(between 29th & 30th St.)
Preview of exhibition April 1, 2012
Contact:
Tanya@streamingmuseum.org
Streaming Museum at The Big Screen Plaza presents selections from the collection of work featured in the John Cage Centennial Tribute.
Artists:
Emanuel Pimenta, Monika Weiss, Phillip Stearns, Loris Greaud and Lee Ranaldo, Leslie Flanigan, Stephen Vitiello, Adachi Tomomi.
Also included: scores from the book "Notations 21″ (2009) by Theresa Sauer inspired by "Notations" (1969) by John Cage; and architect Frank Gehry's words about John Cage.
MONIKA WEISS:
"My trust in the phenomenon of contingency and silence is largely owed to John Cage. Within my sound and video projection environments, silence is the punctuation that forms the space and allows the work to breathe.
The archive appears in my work not as evolution in time or as depository of gradual accretion, but rather as a flat layered surface composed of multiple narratives. In my projections, the silent performer moves very slowly, enacting a prolonged gesture of witnessing and enunciation, as sequenced to non-linear time. Lifting silent filmed actions into another realm, I compose sound from testimonies, recitations, laments, the environment, and musical instruments such as my own piano improvisations. I then transform and layer the recorded tracks to build new fluctuating harmonies.
Cage reminds us that absence of sound is never entirely possible or complete. By opening the space of music through sound and silence, Cage makes them equally important and co-apparent. Ultimately, it is the non-hierarchical, uncompromised attention given to seemingly opposite structures of composition and chance that I take as the greatest inspiration from Cage's work."
…Monika Weiss, New York, January 9, 2012
Read more on STREAMING MUSEUM here
Read more on RHIZOME here
Press Release
Streaming Museum Presents Reflections on John Cage's Influence on the Arts and Mass Culture
John Cage had a profound impact on the arts and mass culture according to architect Frank Gehry, who reflects upon Cage's legacy in the 1993 film Revenge of the Dead Indians: In Memoriam John Cage. In the film, directed by Lenning Lohner, Gehry notes that Cage questioned conventions "and in questioning them he was questioning our lives and our world around us." In this spirit, Streaming Museum launched a John Cage Centennial Tribute on February 1, featuring John Cage and a collection of visual and sound art and stories by contemporary multi-media artists he has influenced.
The entire Tribute program will be on view at StreamingMuseum.org through 2012 and select works will be exhibited in public spaces later this year. The Composers Now Festival, founded by internationally renowned composer/conductor, Tania Leon, will feature Streaming Museum's online program through February 29th. The Festival, now in its third season, is the product of ongoing collaboration between cultural centers throughout NYC who present performances of music by living composers. Post-performance discussions with the composers constitute an important aspect of the programming, engaging audience members and furthering appreciation.
Streaming Museum's Tribute presents visual and sound art and stories about John Cage's lasting influence on subsequent generations including Cage collaborators and friends, William Anastasi, Dove Bradshaw, Joel Chadabe, Emanuel Pimenta, Allegra Fuller Snyder, Bernadette Speach; and contemporary multi-media artists, ADACHI Tomomi, Steve Antosca, Kyong Mee Choi, Phil Dadson, Lesley Flanigan, Richard Garet, Loris Greaud, Martha Mooke, Marcin Ramocki, Marina Rosenfeld, Elliot Sharp, Phillip Stearns, Marty St. James, Susana Sulic, Dante Tanzi, Robert Scott Thompson, Stephen Vitiello, Monika Weiss.